Although not born in Atlanta, Dr. Zwiren has lived here since 1961. After completing his plastic surgical residency at The Ohio State University Hospital College of Medicine in 1988 he opened his solo practice of plastic surgery in Lawrenceville, Ga in August 1988. Dr. Zwiren has been honored time and time again for his exceptional face, skin, breast and body cosmetic surgery work and even named one of the top surgeons in America. His love and passion for providing patients with the best possible care available has seen him grow Prima Center from a one member staff to the biggest plastic and reconstructive practice of its kind in the region.
The son of the first pediatric surgeon in the Atlanta area, Dr. Zwiren understands the hard work and dedication that goes into being a surgeon, which is why his patients often remark on his compassion and attentiveness. Dr. Zwiren gives his full commitment to each and every one of his valued patients to provide them with a natural and beautiful outcome. His goal is to meet and exceed his patient's expectations.
Through his extensive training, Dr. Zwiren brings a high level of experience in aesthetic plastic surgery to Prima Center for Plastic Surgery. He is highly regarded by physicians and patients in the Atlanta area for his surgical abilities and artistic vision for natural appearing results. He is dedicated to provide compassion, patient education, superior quality of care and surgical outcomes to his patients. He believes that actions are stronger than words and he enjoys the daily challenges of patient care and surgery. Among the surgeries and procedures he performs, Dr. Zwiren has a special interest in aesthetic surgery of the face and body. He specializes in both surgical and minimally invasive facial rejuvenation. He has a special interest in emerging technology as applied to the plastic surgery field including the use of many types of laser and radiofrequency modalities. Dr. Zwiren was an investigator for several breast implant studies and has developed a breast augmentation practice using both shaped anatomic implants as well as smooth walled implants. No matter what type of surgery or procedure that Dr. Zwiren performs, he works closely with his patient to make sure that all needs are met throughout the entire process.
Dr. Zwiren earned his A.A. Degree from the Oxford College of Emory University in 1975. In 1977, at the University of Georgia, he received a B.S. in Zoology. Dr. Zwiren attended medical school at the prestigious Emory University School of Medicine where he received his medical degree in 1981. Then, Dr. Zwiren went to Western Reserve Care Center – Ohio where he completed a 5-year residency in general surgery. Dr. Zwiren finalized his plastic surgery training with a fellowship at The Ohio State University Hospital College of Medicine in 1988.
Honoring only the best and the brightest, the Consumers' Research Council of America named Dr. Zwiren as one of the top surgeons in America. Since Dr. Zwiren is so committed to plastic surgery and its safety, as well as the positive benefits provided to patients, he is the current President-Elect of the Georgia Society for Plastic Surgeons. In August of 2016 he will serve a two year term as the President of the Georgia Society of Plastic Surgeons. In this role, he advocates for the safety, well-being and health of patients through a continuing dialogue with both local and state officials. In the past, he was the vice-president, secretary and treasurer of the Georgia Society of plastic surgeons. He has also served as the chief of the department of surgery at Gwinnett Medical Center. Dr. Zwiren has been board certified by the American Board of Plastic Surgery since 1990. The American Board of Plastic Surgery is the only board certified and recognized by the American Board of Medical Specialties to certify a physician in the complex field of Plastic Surgery . Dr. Zwiren is currently the president of the Georgia Society of Plastic Surgeons and continues to be very active in legislative issues both at the local state level and national level when it comes to quality of care and protection of patient safety. As an acitve member of the Georgia Society of Plastic Surgeons and the Medical Association of Georgia, Dr. Zwiren takes tremendous pride in the passing of HB1043, also known as Truth in Advertising for Physicians. This bill was signed into law by Gov. Nathan Deal in May 2106 and enacted into Georgia law. This bill is a tremendous acheivement in patient safety for the people of Georgia. It requires that for any physician to claim board certification in any medical or surgical field he or she must pass a certifiing board recognized by the Americal Board of Medical Specialties and he must have completed a residency program certified by the Accreditation Council for Graduate Medical Education (ACGME) in that specialty. This bill will give clarity to the citizens of Georgia when it comes to the important task of selecting a physician and provides a standard of care and competency that potential patients can readily recognize. Dr. Zwiren and the Georgia Society of Plastic Surgeons continue to work with other subspecialties, such as ENT, Ophthalmology and Dermatology and the Medical Association of Georgia to ensure truth in advertising.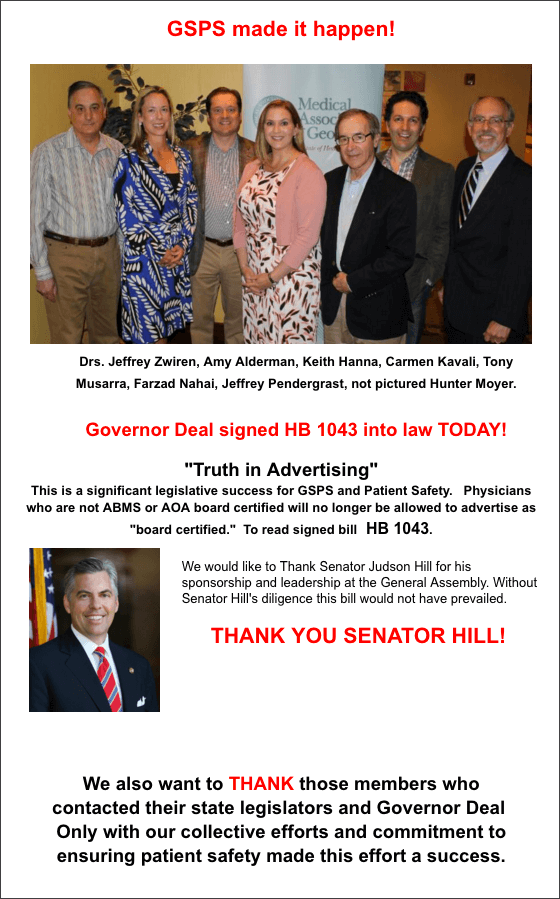 ?
Some of Dr. Zwiren's most notable achievements and milestones are highlighted below.
Employment
Prima Center for Plastic Surgery, Duluth, GA
1988 to Present
Hospital Affiliations
Board Certification
American Board of Plastic Surgery - 1990
Other Certifications
Advanced Cardiovascular Life Support (ACLS)
Basic Life Support (BLS)
Education
The Ohio State University Hospital College of Medicine, Columbus, OH
Plastic Surgery Fellowship, 1986-1988
Western Reserve Care System - Ohio, Youngstown, OH
Residency, General Surgery, 1981-1986
Emory University, School of Medicine, Atlanta, GA
M.D. conferred, 1981
University of Georgia, Athens, GA
B.S. Zoology, 1977
Oxford College of Emory University, Oxford, GA
A.A. Degree, 1975
Society Affiliations
The American Society of Plastic Surgeons, Inc.
The Georgia Society of Plastic Surgeons, President 8/2016 to 8/2018
The Medical Association of Georgia – Gwinnett – Forsyth Chapter
Professional Appointments
Promina Gwinnett, Duluth, GA
Chief of Department of Surgery, 1992-1994
Promina Gwinnett, Duluth, GA
Chairman of O.R. Committee, 1992-1994
Promina Gwinnett, Duluth, GA
Chairman of Surgery Quality Assurance Committee, 1992-1994
Honors & Awards
"Top Surgeons in America," Consumers' Research Council of America
President-Elect of Georgia Society of Plastic Surgeons, Current 2015-2016
Treasurer of Georgia Society of Plastic Surgeons, 2010-2014
Secretary of Georgia Society for Plastic Surgery, 2009-2010
Medical Privileges