Man Seeking a Youthful Neck in Duluth, GA
Procedure Details
This gentleman presented to my office for evaluation of his lower face. He was interested in improving his neck contour but was insistent on not having a facelift. Careful evaluation revealed loose skin of the neck, slight widening of the muscles and some fat beneath the chin. I recommended a direct neck lift for improvement of his contour.
More
Neck Lift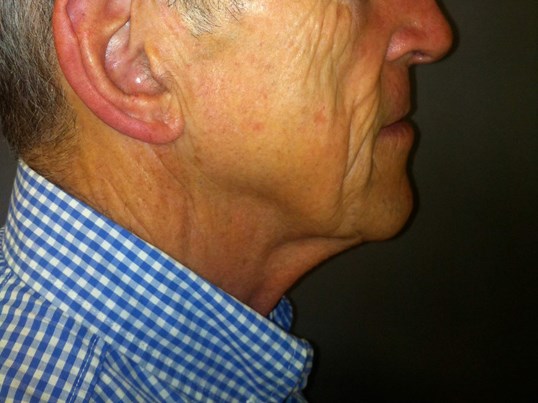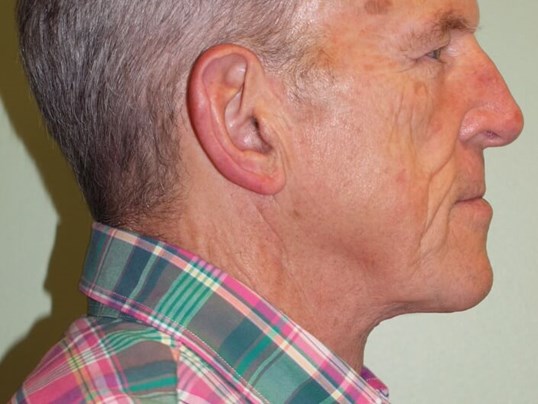 The "before" side view show the significant loose skin of the neck. This produces a less than distinct neck contour. The patient did not want a facelift to improve his contour. I recommended a direct neck. The "after" picture is 8 months after a direct neck lift, direct fat removal, modest muscle tightening and a Z-plasty closure to minimize scar visibility. The patient is very satisfied with his greatly improved contour. CLICK ON PICTURE TO SEE FULL VIEW More
The patient was very pleased with his result. His scar healed well. The procedure was performed under general anesthesia and took about 90 minutes to perfom. The direct removal of skin and fat is very acceptable way to improve neck contour in men only. He was an excellent candidate because he had loose skin and minimal fat contributing to his poor contour therefore liposuction or SMART LIPO was not an option. The patient did have to wear a garment to aid the contour of the neck for 4 weeks after surgery. Total healing time is 6 weeks.
WHY is Dr. Stephenson the best surgeon for your neck lift?
Certified by the American Board of Plastic Surgery
Certified by the American Board of Oral & Maxillofacial Surgery
Member, American Society of Aesthetic Plastic Surgery
Extensive experience in surgery of the face and neck
Location