Rebuilding Gauged Earlobe - Duluth, GA
Procedure Details
Restoration of a distorted earlobe after a long period of gauging.
More
Rebuilding An Earlobe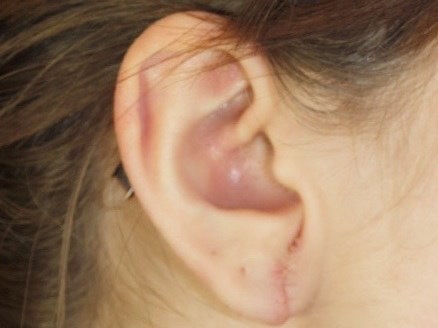 This patient desired restoration of ear contour. The patient was motivated to perform this procedure in hopes to joining the Armed Forces. The ear lobe had been gauged and now left weakened and frail tissue as part of the earlobe. The procedure was performed in the office with local anesthesia in under 45 min. Approximately 10 days after the sutures are removed and the ear contour is much improved. The incision will continue to improve over the next 6-12 months. More
This patient was well pleased with the results. The earlobe healed uneventfully. The procedure takes about 30-45 min with local anesthesia. Dr. Stephenson is careful to design the earlobe so that it appears as natural as possible. This starts with the proper 3D reconstruction of the earlobe. He also uses a modified stitching technique to produce a nice result. .
Here are a few key points to remember when considering earlobe:
Consult with several plastic surgeons certified by the American Board of Plastic Surgery
You must be in good overall general health
Why Dr. Stephenson is uniquely qualified to perform your ear surgery:
Cerified by the American Board of Plastic Surgery
Certified by the American Board of Oral & Maxillofacial Surgery
Member, American Society of Aesthetic Plastic Surgery
Performed hundreds of eyelid surgeries for aesthetic and reconstructive issues
Location